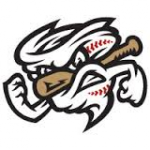 Alex Gordon had two hits and two RBI Thursday night at Werner Park in Omaha, as Kansas City's left fielder made his first start for the Storm Chasers on his rehab assignment.
The former Nebraska star played all nine innings in left field, going 2-for-5 with a pair of singles in Omaha's 9-3 loss to New Orleans.
Gordon, who is rehabbing a broken bone in his right hand, is expected to be back in Omaha's lineup Friday night before returning to Kansas City.