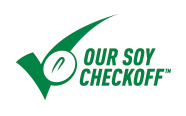 ST. LOUIS (May 31, 2016) – Ten U.S. soybean farmers from soybean-growing states across the nation will take part in an educational program this summer with stops in St. Louis, Panama and Costa Rica as part of the United Soybean Board's (USB)
See for Yourself
program.
"There's no better way to show someone the value of their checkoff investment than to show them the results firsthand," says Keith Tapp, a soybean farmer from Sebree, Kentucky, and chair of USB's Audit and Evaluation Committee, which sponsors
See for Yourself
. "It's important for U.S. soybean farmers to see customers around the world who rely on their hard work to grow the best soybeans in the world."
From Aug. 4-12, the following farmers will get the opportunity to see how the soy checkoff increases demand for their soybeans: 
Ashley Babl (Albion, Nebraska) 

Luke Crawford (Arenzville, Illinois)

Adam Hendricks (Auburn, Kentucky)

Jason McCord (Columbia, Tennessee)

Greg McGlinch (Versailles, Ohio)

Jennifer Polterman (Genoa City, Wisconsin) 

Samuel Showalter (Hampton, Iowa)

Joseph Stoller (Bremen, Indiana)

Dick Werner (Herried, South Dakota)

Russell Wolf (Tipton, Missouri)
The
See for Yourself
program gives participants a firsthand look at how and where their soybeans are being used both domestically and internationally. It also offers farmer-participants an opportunity to evaluate specific, checkoff-funded research and promotional activities. This year's program includes a tour of the Panama Canal, where work continues to expand the waterway used to ship almost half of all U.S. soy exports. In Costa Rica, participants will learn about one of U.S. soy's biggest oil customers.