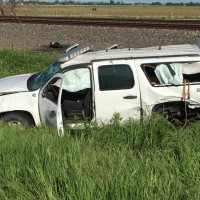 CHAPMAN- A Columbus Fire Department Vehicle was involved in an accident yesterday morning west of Chapman.
The driver took evasive action to avoid a head on collision after a vehicle in the opposite lane hit a semi in front of the CFD vehicle and was headed straight towards the vehicle. Witnesses say the CFD vehicle was hit on the driver's side back door and rolled three times.
There were no serious injuries to anyone involved in the accident.