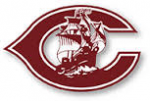 The Columbus High baseball team couldn't pull off a second straight upset Tuesday, losing to Lincoln Northeast 12-0 in six innings in the A-4 district final.
The Discoverers, who had shocked Bellevue West on Saturday, managed just two hits Tuesday at Omaha Westside.
Rockets starter Logan Kirk pitched four scoreless innings and Tom Burbach finished off the shutout, as the two pitchers combined to strike out 12 Columbus batters.
The Discoverers season ends with a 7-21 record, while Northeast advances to the state tournament.