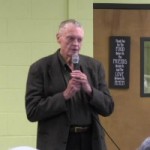 The exhibit hall at the Nebraska High School Sports Hall of Fame in Lincoln will be named in honor of Tom Osborne.
Chuck Johnston, executive director of the hall's foundation, said today "the goal of honoring our past to inspire the future has reached its pinnacle moment" with Osborne granting permission to use his name.
Osborne coached Nebraska from 1973-1997, winning national titles in three of his last four years.
As a student-athlete at Hastings High, Osborne was an all-state quarterback and was a state champion in basketball and track.