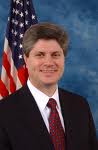 LINCOLN, Neb. – Rep. Jeff Fortenberry has been named a "Friend of Agriculture"

by NFBF-PAC, Nebraska Farm Bureau

Federation's

political action committee. Fortenberry is a candidate for re-election to represent Nebraska

'

s 1st Congressional District.
"Congressman Fortenberry has been a strong proponent of biofuels and renewable energy production. He has also supported value-added agricultural opportunities and new food markets," said Mark McHargue of Central City, chairman of NFBF-PAC and first vice president of Nebraska Farm Bureau.
"As a member of the House Appropriations Committee, Rep. Fortenberry has played an important role in working to restore fiscal sanity back to Washington, while at the same time protecting certain aspects of the federal budget that are important to Nebraska's farm and ranch families,"

McHargue said.
According to McHargue, Fortenberry has a strong grasp of agriculture within his district.
"The 1st Congressional District is diverse in its constituency. Rep. Fortenberry understands the importance of agriculture to the district and the state. From his work on pushing for a sound federal budget to his work to keep regulatory agencies in check, Congressman Fortenberry has truly worked hard for Nebraska's farm and ranch families,"

McHargue said.
The Friend of Agriculture designation is given to selected candidates for public office based on their commitment to and positions on agricultural issues, qualifications and previous experience, communication abilities and their ability to represent the district.