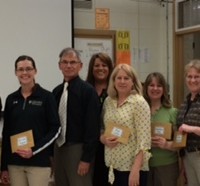 Sometimes when a wish needs to be granted you look to Mom.  For teachers and staff at Scotus Central Catholic that happens to be the Scotus Mother's group.
Wednesday night the group awarded wish grants to six teachers and staff catching some by surprise & others still in awe.  Recipients this year include:
Ken Hash- New stair dolly for assisting in moving heavy items between the schools three floors.
Brooke Hughes- An ultrasound machine to assist in treating student athletes.
Kristen Cox-New Sousaphone for the band.
Cathy Podliska-Replacement of well loved books in the library.
Wayne Morfeld-Purchase 80 new chairs for the Fine Arts Department.
Joan Lahm-A new incubator for the science department.
Through fundraisers, such as the Christmas Craft Show, the Scotus Mother's are able to help make purchases for the school each year.