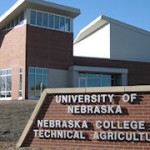 By Mary Crawford, NCTA News Service
Crookston, Minn. – The Nebraska College of Technical Agriculture took 21 students to a national contest in Minnesota last week and garnered awards for their two-year college in Curtis.
Aggie teams won national titles in crops judging and agricultural computers, with second place in the always competitive livestock judging contest. NCTA teams earned third places in agribusiness management and dairy judging, with fourth-place teams in ag sales, horse judging and livestock management.
The Aggies competed April 14-16 at the University of Minnesota-Crookston in the annual Judging Conference for two-year and four-year schools of North American Colleges and Teachers of Agriculture (NACTA).
This year, Aggie students represented academic programs in agribusiness, agronomy and animal science.
"The achievement of NCTA's student teams is truly remarkable, "said NCTA Dean Ron Rosati. "A contest such as this allows us to compare the knowledge of our students against that of students from other colleges and universities across the nation."
Dr. Brad Ramsdale, agronomy professor and crops judging coach, started the NCTA crops team just six years ago.  He took six students to the contest where individually they captured third, fourth and fifth places.
"We are very proud of all the accomplishments by our students," said Ramsdale. "The NACTA Judging Conference is a wonderful opportunity for our students to showcase their knowledge and skills in a wide variety of agricultural disciplines."
Jeremy Sievers, agribusiness management professor, coordinated five ag business students for the school's agribusiness contests in management, sales and computers.
Dr. Doug Smith, animal science division chairman and livestock coach, was unable to attend yet sent 10 students who judged in four highly competitive contests.
"NCTA is one of the smallest colleges at the competition so the fact that our teams placed in the top five nationally speaks very well for the skill of our students and the teaching ability of our faculty," Rosati said.
NCTA's overall team, individual results in top 10
:
Crops Judging
: 1
st
place team; Aaron Jensen, Goehner, 3
rd
place individual, 1
st
agronomic knowledge; Nolan Breece, Holdrege, 4
th
;
Ross Steward, Littleton, Colo., 5
th
;
Dalton Johnson, Gering.
Agricultural Computers

: 1st place team; Desarae Catlett, Broken Bow, 1st place individual; Trevor Schipporeit, Merna, 4th; Kylie Cadwallader, Brewster, 10th; Garth Packard, Ogallala.
Livestock Judging

: 2nd place team; Bailey Hinrichs, Ayr, 2nd place individual, 2nd beef, 3rd sheep, 5th oral reasons; Wade Vallery, Plattsmouth, 4th oral reasons, 6th goats, 8th sheep, 9th beef; Eleanor Aufdenkamp, North Platte, 6th beef; Emilye Vales, DeWitt, 8th oral reasons; Calvin DeVries, Fairfield, 9th sheep.
Agribusiness Management

: 3rd place team; Schipporeit, 5th place individual; Catlett, 6th; Kadwallader, 7th; Kayla Reynolds, Litchfield
Dairy Judging
: 3
rd
place team; Eric Shoop, Dalmatia, Penn., 7
th
place individual, 3
rd
Holsteins, 9
th
oral reasons; DeVries, 9
th
individual, 7
th
Jerseys, 10
th
oral reasons; Vallery, 8
th
Jerseys; Fleer.
Ag Sales

: 4th place team; Packard, 4th Ag Equipment; Catlett, 4th Ag Service; Reynolds, 5th Ag Input.
Horse Judging

: 4th place team; Vales, 8th individual, 4th halter class; Shane Hoer, Blair, 9th individual; Heath Buchanan, Douglas; Aufdenkamp.
Livestock Management
: 4
th
place team, Hinrichs, 7
th
individual, Vales, DeVries and Vallery
Knowledge Bowl Team

:  Schipporeit, DeVries, Shoop, Steward and Jensen competed in a 3-round quiz bowl.
First-year crops judging students Maggie Brunmeier, Bayard, and Vincent Jones, Kirwin, Kansas, participated as unofficial contestants, gaining valuable experience in their first national competition, Ramsdale noted.
Animal Science students will receive awards on Thursday, April 28 at an Animal Science "Steak and Shake" public banquet and dance. NCTA's Agribusiness and Crops students will be recognized at a public Awards Night at 7 p.m. on Wednesday, May 4.
The 2017 NACTA Judging Conference on April 6-8 will be closer for Nebraska colleges to travel, at Kansas State University in Manhattan.  The 2016 contest drew 565 students from 30 colleges for a total of 630 individual entries.