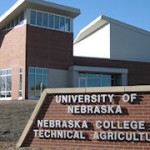 Curtis, Neb. – Alumni activities for the Nebraska College of Technical Agriculture will be June 11 in Curtis, announced Ron Rosati, NCTA Dean.  All alumni from the 113-year-old institution are welcome.
High school graduates of the Nebraska School of Agriculture (NSA) and University of NSA, plus college graduates from the past 50 years of the University of Nebraska School of Technical Agriculture (UNSTA) and NCTA will be recognized in the all-school events.
Kim Mortensen of Curtis is president of the UNSTA-NCTA Alumni Association. The college celebrated its 50
th
anniversary last November. The June event continues that recognition campus tours which will include a new commemorative brick patio that is going to be installed soon near Ag Hall, the oldest building on campus.
Activities begin that Saturday morning with golfing, trap shooting at the Curtis trap club, NCTA campus tours, and availability at the Alumni Room on campus. An evening banquet begins at 6 p.m. at the Curtis Memorial Community Center.
Dave Thorell, KRVN radio announcer and personality, will be the banquet emcee and keynote speaker. Alumni awards and some special recognition will be included at this year's banquet.
The NCTA Dean's Spring Newsletter was recently mailed to more than 4,200 alumni and campus friends, Rosati said. If an Aggie graduate does not receive the mailing, please contact the Dean's Office at 308 367-5200 or 1-800-3-CURTIS and speak with Catherine Hauptman.
Additionally, the electronic version of the 2016
Dean's Newsletter
is posted at the NCTA web site, ncta.unl.edu under "News and Events."
Alumni Association officers are:  President Kim Bowers Mortensen, Past President Dan Stehlik, Secretary Catherine Potter Hauptman, and Treasurer Taylor Rossenbach, all of Curtis.  President-Elect is Dave Mehaffey of Bellwood.