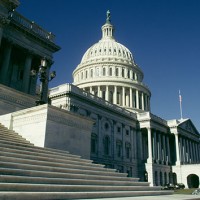 The House Appropriations Committee on Tuesday passed an amendment barring the Grain Inspection and Stockyards Protection Administration, or GIPSA, rule on poultry.
The "rider" attached to the USDA fiscal 2017 funding bill would prevent USDA from implementing the rule. The 2008 farm bill directed GIPSA, which monitors the meat industry for fraudulent, deceptive and anti-competitive practices, to develop certain rules for poultry contracts, according to Politico.
The amendment passed Tuesday would bar USDA from writing rules that address unjust, discriminatory practices, such as retaliation against farmers who speak out about unfair practices, according to the National Farmers Union, which called the move "disheartening." The National Chicken Council thanked the committee for its action, noting that revisiting the rule shows "USDA seems to be seeking a solution in search of a problem."
The Council says the current contracting system has worked well for more than 60 years and has helped promote improvements in live chicken performance that have benefited chicken farmers, companies farmers produce for and consumers.