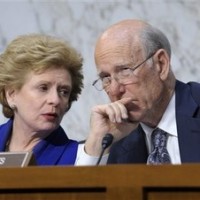 Michigan Democrat and U.S. Senator Debbie Stabenow told consumer groups last week that any proposed GMO labeling bill will not be perfect. Groups such as Just Label It and the Center for Food Safety have pushed for a nationwide, mandatory GMO labeling system, such as the one set to take effect in Vermont in July.
Pro Farmer's First Thing Today reports Stabenow stressed that getting labeling standards through Congress will require a compromise. Stabenow also told reporters that she recently sent GMO labeling language to Senate Agriculture Committee Chair Pat Roberts, noting that her stance has not changed.
Stabenow is the ranking Democrat on the committee and a proponent of mandatory GMO labeling. Chairman Roberts prefers a voluntary labeling measure. However, his bill failed in the Senate last month.