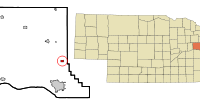 NICKERSON, Neb. (AP) – A key proponent of a proposed chicken plant in the Fremont area says the outcry against the facility hasn't quashed economic developers' hopes.
Randy Thelen of the Greater Omaha Economic Development Partnership says opposition heard Monday at a meeting in the village of Nickerson might cause the company to identify itself soon and acknowledge the community's concerns. The village's board voted unanimously against rezoning land necessary for the project to move forward in the proposed location.
The Greater Omaha Chamber of Commerce and the Greater Fremont Development Council are working to recruit a chicken processing plant that would generate a $1.2 billion annual economic impact and employ 1,100 workers while processing nearly 350,000 birds each day.
Development officials say the company is taking a step back to look at its options.
Governor Pete Ricketts spoke, not talking directly about the poultry expansion, but of Ag expansion in general…