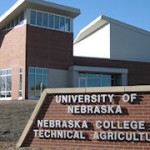 Curtis, Neb. – When Brad Ramsdale, an associate professor of agronomy at the Nebraska College of Technical Agriculture in Curtis, was slated to receive a University of Nebraska award for teaching excellence, it was only appropriate that several of his crops judging students made the trip to Lincoln with him.
The competitive judging program and its students were, after all, an integral factor in Professor Ramsdale earning the recognition of a Holling Family Award for Teaching Excellence in Agriculture and Natural Resources.
The sole instructor and division chair in the NCTA agronomy program was nominated for designing a unique agronomy and crops judging curriculum for experiential learning at the two-year technical college at Curtis.
The Holling Family Award Program recognizes outstanding contributions by faculty at NCTA, Nebraska Extension, and the College of Agricultural Sciences and Natural Resources of the Institute of Agriculture and Natural Resources, said NCTA Dean Ron Rosati.
"Dr. Ramsdale is an outstanding faculty member – well deserving of the recognition bestowed upon him by receiving a Holling Family Award," Rosati said.
"His students benefit from the high degree of creativity and intelligence he displays in the classroom. Brad is especially skilled at taking complex research findings and showing the students how they apply in practical, field applications."
Seven NCTA faculty members have received Holling awards since the program's inception in 1998.
When Ramsdale joined the NCTA faculty in 2007, he laid the groundwork for several new programs to benefit students at the college.  Many earn their two-year associates degree and go into industry or farming.
Since 2010 when Ramsdale started a collegiate crops judging team at NCTA, his teams have steadily progressed in experience and contest rankings at regional and national contests involving two-year schools.
The crops students were glad to see their professor recognized last month, where Rosati and Ross Steward, agronomy student, assisted at the awards ceremony in Lincoln.
"I was honored to introduce Dr. Ramsdale for this award. I have had many valuable experiences through crops judging, Farm Bureau club, and classes that were made possible by Dr. Ramsdale," said Steward, a Littleton, Colo., native who is now in his fourth semester at NCTA.
"His recognition for teaching excellence reflects his dedication to the students at NCTA and has made an impact on me and other students," Steward added. "He is helping to lay the foundation for the next generation in agriculture."
Steward was joined by fellow students Nolan Breece, Dalton Johnson and Aaron Jensen in the agronomy trip to Lincoln.

In addition to his teaching duties, Ramsdale started the NCTA Honors Program, initiated a collegiate Farm Bureau club on campus, and now coordinates the college's academic assessment and reporting. He also supervises the agricultural mechanics and irrigation technology programs for NCTA.
His unique teaching methods incorporate the NCTA field laboratory and campus farm into student opportunities. He teaches precision agriculture, agricultural chemical application, the agronomy scholars program, and some dual credit courses for high school students.
Ramsdale received his undergraduate and graduate degree from Kansas State University, doctorate degree from North Dakota State University, and was promoted to the rank of associate professor late in 2015. He was nominated in January by peers at NCTA for the Holling award.
It recognizes achievement for junior and senior level faculty, in addition to graduate teaching assistants. Ramsdale was one of four NU faculty awarded the 2016 senior level honor, which includes a $5,000 stipend.
Previous recipients from NCTA have been, Senior Faculty: Judy Bowmaster-Cole, 2005; Del VanDerWerff, 2003; Jerry Sundquist, 2000; and Teri Jo Bek, 1999. Junior Faculty: Cory Reng, 2009; Clyde Cranwell, 2005; and James Kennedy, 1999.
The program was made possible by a gift from the Holling family to honor their pioneer parents. John Holling was a 1912 electrical engineering graduate of UNL, and his brother, Gustave Holling, attended the College of Agriculture before farming the family's land in the Wood River area.
Information about NCTA programs is available at
ncta.unl.edu
, or by calling 1-800-3-CURTIS.