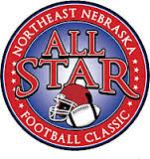 Ten area football players will play for the White team in the 4th annual Northeast Nebraska All-Star Football Classic.
Four players from Boone Central/Newman Grove are on the White squad, including David Hansen, Keaton Henry, Kyle Kramer and Joe O'Brien.
Noah McPhillips and Kyle Wemhoff will represent Humphrey St. Francis.  The others are Austin Mills of Madison, Tyrell Pokorney of Clarkson-Leigh, Tyler Polacek of Howells-Dodge and Austin Preister of Humphrey/Lindsay Holy Family.
The White and Red teams meet on Saturday, June 11th.  Kickoff is set for 1pm at Veteran's Memorial Stadium in Norfolk.