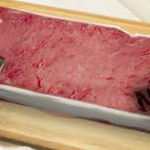 Wide-open spaces, grazing cattle in rolling pastures, and efficient feed yards cover Nebraska's landscape. We are "The Beef State." Our delicious products are the best in the world. They are found on dinner tables from New York to Tokyo, and many places in between. Because Nebraska's producers are committed to delivering safe and high-quality beef, they continue to reach new consumers around the globe.
This success is the result of persistence in the face of adversity. In December of 2003, Israel was one of many countries to suspend imports of U.S. beef. Israel did so following a confirmed case of bovine spongiform encephalopathy, more commonly referred to as BSE. After this case was confirmed, U.S. beef producers quickly implemented strict improvements. But, for nearly 13 years following this discovery, America's beef producers were unable to ship their products to Israel.
When I visited Israel last fall, U.S. Ambassador Dan Shapiro reached out to me to find a solution to this ban. He wanted to bring Nebraska beef back to dinner tables in Israel. The ambassador said he was especially interested in serving Nebraska beef at the embassy's annual Fourth of July celebration. Following our conversation, I began a dialogue with the U.S. Department of Agriculture (USDA) to find a way to make this happen.
For the next few months, my office worked closely with the USDA's Food Safety and Inspection Service. I also spoke regularly with officials from the Nebraska Department of Agriculture in a concerted effort to find the best solution. Finally, in February of 2016, an agreement was achieved. The ban was lifted, and the USDA announced that, for the first time in over a decade, an American shipment of beef will be delivered to Israel. What's more, Nebraska will have the honor of supplying this shipment.
As part of this agreement, WR Reserve, a processing plant in Hastings, was selected to make the first delivery. This company's hard work and dedication to complying with a rigorous inspection process made this agreement possible.
Agriculture is the driving force of Nebraska' economy, and beef is a critical component of that success. With nearly $7.2 billion in annual cash receipts, our beef represents the largest sector of the state's economy, while leading the nation in every aspect of beef production. In our state, cattle outnumber people by more than three to one. Nebraska is also the number one cattle on feed state. This fact illustrates our steadfast commitment to supplying the world with affordable, safe, and high-quality Nebraska beef.
This historic agreement with Israel is a win for both Nebraska and the Israeli people. For the first time in many years, consumers in Israel will once again be able to enjoy world-class Nebraska beef. And for Nebraska, opening this new market means increased opportunities that can benefit our communities and strengthen our economy.
According to the USDA, Israel imported $405 million in beef products from other nations. Ninety-five percent of these imports originated in Latin America, with additional volumes coming from Australia and the European Union. Nebraska now has an opportunity to be a competitor in that marketplace.
Throughout this process, I was honored to collaborate with state, federal, and international officials. This teamwork and persistence made it possible for Nebraska's beef producers to lead the charge. I'm proud of our beef producers, and excited for the beef industry.
Going forward, I will continue working to ensure Nebraska's beef producers have every opportunity to succeed and feed the world.
Thank you for participating in the democratic process. I look forward to visiting with you again next week.