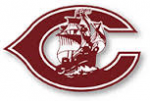 One member of the Columbus High boys' basketball team and two Discoverers girls have been honored as GNAC all-conference selections. Mitchell Greiner, Elli McMeekin and Caitlin Edzards earned the honors.
Greiner, a 6-foot junior guard, led the Columbus boys' team in scoring by averaging over 15 points a game.
McMeekin scored almost 12 points per game for the Discoverers girls.  The 5-9 senior forward also led the team with better than eight rebounds a contest.
Edzards, a 5-7 senior guard, led the Columbus girls' squad in scoring with better than 12 points a game.