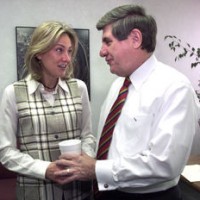 Former Sen. Ben Nelson's daughter, Sarah, died from a fall at her home in Palm Springs, California, over the weekend.
Sarah Nelson, 46, who grew up in Omaha and graduated from Duchesne Academy, had been on and off crutches after ankle surgery. She was at home alone when the accident occurred.
"It is unimaginable to think that she's gone," Nelson said during a telephone conversation Tuesday.
"She would want me to get through it even though I can't ever get over it," he said. "Sarah was one of the most well-liked persons ever. She was a delight and we were as close as a father and a daughter could ever be."
Nelson said he "will get through this with faith, family and friends."
Nelson represented Nebraska in the Senate from 2001 to 2013 and was governor from 1991 to 1999.
 Sen. Ben Sasse responded swiftly to news of Sarah Nelson's death.
"Melissa and I are devastated by this tragedy and offer our thoughts and prayers for the entire Nelson family," he said.
"As the parents to three kids, our hearts go out to those who were close to Sarah. Nebraskans will hold the Nelson family close during this time of heartbreak."
Governor Pete Ricketts issued a statement after learning about the passing of former U.S. Senator Ben Nelson's daughter Sarah.
"Susanne and I send our deepest condolences to Senator Nelson's family.  We can only begin to understand how difficult this loss is.  We ask Nebraskans to join us in keeping their family in your thoughts and prayers."
Sen. Deb Fischer also offered her condolences in a statement: "I was heartbroken to learn of the tragic passing of Sarah Nelson. The loss of a child is simply beyond comprehension."
Gov. Pete Ricketts added his sympathy to the Nelson family: "We can only begin to understand how difficult this loss is. We ask Nebraskans to join us in keeping their family in your thoughts and prayers."