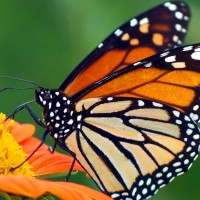 LINCOLN–The U.S. Department of Agriculture (USDA) has announced a new conservation effort that provides technical and financial assistance to agricultural producers to mitigate the impacts of climate change and provide food and habitat for monarch butterflies. Nebraska farmers and ranchers have until March 18, 2016, to apply for funding.
The monarch butterfly, along with other pollinators like honeybees, has seen its population numbers decrease significantly over the past 20 years. This targeted effort by USDA's Natural Resources Conservation Service (NRCS) will invest $100,000 in Nebraska to help combat the iconic species' decline.
"These once-common butterflies are becoming less familiar, and we know private lands will continue to play a crucial role in aiding the recovery of this species," Nebraska NRCS State Wildlife Biologist Ritch Nelson said.  "Nebraska's farmers, ranchers, and forest landowners are stewards of the land. This effort helps them make voluntary improvements that benefit their farming operations while providing habitat for monarchs, honeybees and a wide array of other pollinators."
NRCS will provide technical and financial assistance to help producers plant milkweed and nectar-rich plants along field borders, in buffers along waterways or around wetlands, in pastures, and other suitable locations. NRCS also helps producers manage their pastures in ways that increase critical populations of milkweed and nectar plants while also improving the health of their rangelands.
Nelson said, "These conservation improvements not only benefit butterflies, they also strengthen agricultural operations, support other beneficial insects and wildlife, and improve other natural resources. Appropriate buffer habitats and better rangeland and pasture management practices reduce erosion, increase soil health, inhibit the expansion of invasive species and provide food and habitat for insects and wildlife."
Nebraska farmers and ranchers may also apply for assistance through NRCS to make their operations more resilient against the impacts of climate change. Over $1.8 million is available through the Environmental Quality Incentives Program (EQIP) for producers to receive assistance to install conservation practices that support soil health, nitrogen management, manure management, grazing management, forestry improvement and energy efficiency.
Nebraska NRCS State Conservationist Craig Derickson said, "This investment is expected to accelerate the implementation of core conservation practices that help farmers, ranchers and forest landowners increase carbon content of soils and reduce greenhouse gas emissions associate with food and fiber production."
NRCS accepts EQIP applications from producers on a continuous basis, but to receive this specially designated funding, producers should apply by March 18, 2016. Producers interested in participating should contact their local USDA service center to learn more.
For more on technical assistance and financial resources available through NRCS conservation programs, visit www.nrcs.usda.gov/GetStarted or a local USDA service center.