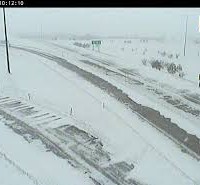 10:05 a.m.
Heavy snow and strong winds have forced officials to close more than 100 miles of Interstate 80 in eastern Nebraska because of dangerous conditions.
The Nebraska Department of Roads has closed I-80 from Lincoln west to Elm Creek because of the weather Tuesday morning.
In western Nebraska, Interstate 76 is also closed between I-80 and I-70 in Colorado.
Several smaller highways in southwest Nebraska are closed leading into Kansas.
Officials say the wind and snow are creating blizzard conditions across much of the state. Officials are not recommending travel across most of Nebraska.
—
The howling storm system that dumped more than a foot of snow on some parts of Colorado and is laying it on thick in Nebraska and Iowa has spawned rainstorms along its southeastern and southern side.
Greg Dial with the National Weather Service's Storm Prediction Center said Tuesday that warm air from the Gulf of Mexico has kept the snow at bay and brought unusually high winter temperatures to many states. The high in Evansville, Indiana, could hit 69F Tuesday, for example.
The center predicts the chances of severe thunderstorms and tornadoes will increase east of the Mississippi River as the cold front moves east. Dial says they could erupt late Tuesday morning or in the evening across much of southeast Missouri, southern Illinois, southwest Indiana and western Kentucky.