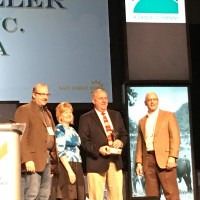 This week, three producers were honored with the checkoff's annual national Beef Quality Assurance (BQA) award and Dairy Beef Quality Assurance (DBQA) award, which were created to recognize outstanding beef and dairy producers from across the country who incorporate BQA principles as part of the day-to-day activities on their operations. In addition, key cattle industry influencers who promote BQA principles on a daily basis were honored. One individual was recognized with the BQA Marketer Award, and one individual received the BQA Educator of the Year Award.
2016 winners were:
Frank Stoltzfus, Masonic Village Farm from Elizabethtown, Pa. (BQA Cow Calf Award)
Todd and Kristi Drake, Nodaway Valley Feeders from Nodaway, Iowa (BQA Feedyard Award)
Reid and Diane Hoover, Brook-Corner, LLC from Lebanon, Pa. (BQA Dairy Award)
Scott Mueller, Samson, Inc. from Columbus, Neb. (BQA Marketer Award)
Lisa Pederson, North Dakota State University (BQA Educator of the Year Award)
Links to high res images:
Watch videos for each BQA award­ winner on the BQA YouTube page.
"Our 2016 award winners are exemplary models for promoting beef as a quality product from the local to the national level," says Chase Decoite, associate director of BQA. "They are working diligently to implement the newest, safest, most efficient animal health, handling, daily management and record-keeping practices. They are truly examples of sharing the BQA story!"