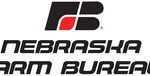 LINCOLN, NE – Lancaster County Farm Bureau was recognized by the American Farm Bureau Federation (AFBF) for innovative program ideas in this year's County Activities of Excellence (CAE) Awards at AFBF's 97th Annual Convention and IDEAg Trade Show, Jan. 8-13 in Orlando.
"We are so excited that Lancaster County Farm Bureau was honored in this competition. Only 24 County Farm Bureau's from across the U.S that were awarded recognition, Nebraska received three of those honors," NFBF President Steve Nelson said. "Grassroots Nebraska Farm Bureau members continue to find creative ways to enrich their communities by sharing information about today's food and farming," he said.
Lancaster County Farm Bureau was honored in the membership category for their work on Ag Night at Haymarket Park, sponsoring a membership appreciation night at a Lincoln Saltdogs baseball game.
"The goal was to increase membership and retention rates while developing strong relationships between members, agents and staff during a fun family event. There is always a need to increase renewals and retention rates for non-ag members within the county. We need to keep existing membership to keep Farm Bureau viable," Rod Hollman, president of the Lancaster County Farm Bureau said.
Lancaster County Farm Bureau along with other County Farm Bureaus are dedicated to promoting and preserving agriculture awareness in Nebraska.