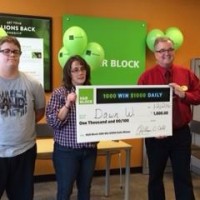 A Columbus resident was one of 32,000 company wide to receive a $1,000 from H&R Blocks in their 1,000 winners a day through February 15, 2016.
Dawn Wardell had her taxes done at H&R Block in Columbus and on Saturday received an email congratulating her on being selected as a winner.  For Wardell this is a great way to start off 2016 and plans to put the money in savings.
Franchise owner Larry Kemling said he was happy to have one of the winners from Columbus and to go to Dawn.  The chances of winning depends on the number of people have taxes done on that given day nation wide.