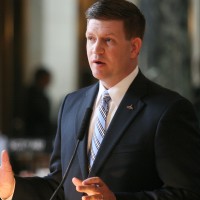 LEXINGTON, Ky.–Nebraska state Sen. Beau McCoy will serve as The Council of State Governments' national chair this year. He joins Delaware Gov. Jack Markell, the national president; Nevada state Sen. Kelvin Atkinson, the chair-elect; and Kentucky state Sen. Robert Stivers, the vice chair, as the 2016 national leadership team.
CSG, the nation's only organization serving all three branches of state government, champions excellence in governance to advance the common good. The 56 U.S. states and territories are members of CSG, and six Canadian provinces also partner with CSG. The council, headquartered in Lexington, Ky., is a region-based forum with offices in Atlanta, Chicago, New York and Sacramento, Calif.
McCoy was first elected to the Nebraska Legislature in 2008, then re-elected in 2012.
McCoy not only serves as the CSG national chair but also as chair of the CSG 21st Century Foundation. He has been active with CSG and serves as a member of several groups, including the CSG Governing Board, Federalism Taskforce, Leadership Council, Associates Advisory Committee, Finance Committee, National Conference Committee, International Committee and Interbranch Affairs Committee. He is co-chair of the Intergovernmental Affairs Committee.
McCoy is also a 2011 graduate of the CSG Henry Toll Fellowship Program, the nation's premier leadership development program for state government officials.
"Conducting public service successfully in the modern political environment requires constant effort and self-education," McCoy said. "For more than 80 years, The Council of State Governments has been a trusted, nonpartisan resource for members in all three branches of state government."
CSG Executive Director/CEO David Adkins said the 2016 leadership team brings diverse and invaluable experience to the council.
"The council is fortunate to have a talented team with an array of expertise that will keep CSG moving forward in its service to states," Adkins said. "Their passion for public service and commitment to innovation will allow us to continue providing high-quality products in key areas such as workforce development, education access and economic growth."