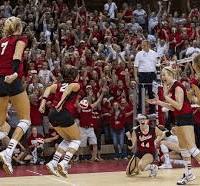 Husker volleyball fans and players held a celebration Sunday afternoon at the Devaney Center.
Nebraska is still basking in winning its fourth national championship, which came Saturday night in a 3-set sweep of Texas.  It was witnessed by an NCAA-record crowd of 17,561 at Omaha's CenturyLink Center.
Coach John Cook said his team's goal at the start of the season was making the Final Four in Omaha.
It was the third championship for Cook since taking over the program in 2000. .