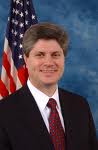 Washington, D.C. – Congressman Jeff Fortenberry (NE-01)  announced the formation of an Offutt Air Force Base Task Force to provide additional oversight of the Defense Department's effort to design and replace the existing runway.
"As Nebraskans we deeply appreciate our military's sacrifice and the role that Offutt Air Force Base plays in our national security," Fortenberry said. "The Offutt Air Force Task Force will conduct careful oversight of the ongoing runway replacement process, a critical component of Offutt's infrastructure needs. We will monitor the Pentagon's stated commitment to the obligated planning and design money, including a constant review of runway replacement costs.
"I have high confidence that the project is on track, and essential communication with the Pentagon about the importance of this initiative is continuing on all fronts. Joining me on the Task Force will be representatives from the offices of Governor Ricketts, Congressman Smith, and Congressman Ashford. I want to commend the many citizen groups in Nebraska that are taking a great interest in ensuring that Offutt remains a viable part of our national security infrastructure and local community life."
Fortenberry is the Vice Chair of the House Appropriations Subcommittee on Military Construction and Veterans Affairs.