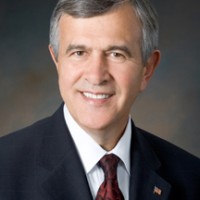 WASHINGTON – Last night, former U.S. Senator Mike Johanns of Nebraska (R-Neb.) was nominated by President Obama to the board of directors for the Millennium Challenge Corporation (MCC). U.S. Senator Deb Fischer (R-Neb.) released the following statement praising the nomination of Senator Johanns:
"Nebraska is honored to have Senator Johanns continue his service to our nation as an ambassador of American goodwill in the fight against global poverty. By joining the board of the MCC, Senator Johanns will bring extensive experience and Nebraska common sense to an organization charged with feeding the less fortunate across the world. I wish him every success in this new stage of his impressive career."
The MCC is an independent U.S. foreign aid agency charged with fighting global poverty. It was first proposed by then-President George W. Bush in 2002 and created by Congress in January 2004 with strong bipartisan support. Over a decade later, the MCC is changing the conversation on improving the delivery of U.S. foreign assistance by focusing on good policies, country ownership, and results.
Click here to read the press release from the White House.