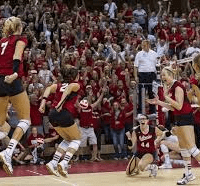 It took five sets, but the Nebraska volleyball team won its fifth straight match at Michigan State Wednesday night.
The 8th-ranked Huskers won 25-19, 27-29, 23-25, 25-18, 16-14.
The Huskers improved to 21-4 overall and 12-3 in the league as Kadie Rolfzen tied a career-high with 21 kills, adding 14 digs and five blocks.
NU will wrap up its four-match road stretch at Maryland Saturday night.