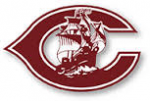 The Columbus High volleyball team defeated number-7 Lincoln North Star in four sets.
After losing Thursday night's first set 25-23 in the Columbus High gym, the Discoverers took the next three sets, 25-17, 25-23, 25-16.
Columbus, now 12-7, faces Lakeview Saturday at 10 a.m. in the Columbus Classic. That tourney will be broadcast on 93.5 The Hawk, starting at 9 a.m. with Scotus vs. Hastings.