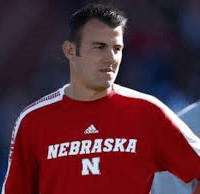 A 49-year old man has been charged for the car crash that killed a Husker assistant soccer coach. Iowa online court records say Paul Marshall of Modale is charged with vehicular homicide while operating under the influence.
The fatal collision happened on May 16th, when Marshall allegedly drove west on a ramp and entered the eastbound lanes of I-80 in Cass County. Prosecutors say Marshall's vehicle then struck one driven by Peter Underwood, who died at the scene.
The 31-year old Underwood was on a recruiting trip.