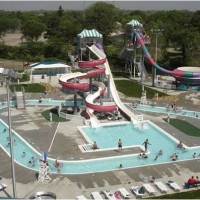 COLUMBUS- Pawnee Plunge will no longer open today.
The large amounts of rain have hampered efforts to get the Plunge ready for the opening. The state inspector will not allow the Plunge to open until all the sod has been installed. Once the area dries enough for him to get his equipment in, the sod installer said it will take him a day or day and a half to complete the work.
It is not known yet when the installer will be able to place the sod on the grounds.