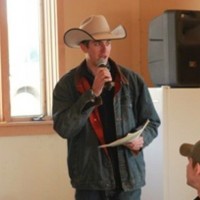 LINCOLN – The Nebraska Cattlemen Foundation has selected Curtis Wetovick of Fullerton as the first recipient of its Nebraska Cattlemen Beef State Scholarship. The $10,000 scholarship has been established to support outstanding junior, senior or graduate level students.
Recipients must be a resident of Nebraska and be enrolled in a Nebraska college or university pursuing a beef industry related degree. The scholarship is awarded based on student need, Nebraska beef industry involvement (past achievements and future plans) and academic performance.  Wetovick was one of three finalists interviewed by the selection committee.
Wetovick is a senior at the University of Nebraska pursuing an Animal Science degree, with a Business and Engler Agribisiness Entrepreneurship minor. His parents are Richard and Marne Wetovick.
Curtis has been involved in every aspect of production and management within his family's cattle ranch. Also, he is an auctioneer and started his own business, CW Auction, during his junior year of high school. Business is spreading by word of mouth and his goals include working for a prominent Nebraska weekly livestock market, conducting twenty or more seedstock production sales per hear and wining the World Livestock Auctioneering Championship.
"With beef production the number one industry in Nebraska and as Nebraska becomes the beef epicenter of the United States, it is more important now, more than ever before, to support and reward our future beef industry leaders who will have an impact on the Nebraska beef industry," says Scott Langemeier, Nebraska Cattlemen Foundation President.
For more information on this scholarship and how you can donate, please contact Jana Jensen, NCF Fundraising Coordinator at 308/588-6299, janajensen@nebcommfound.org or Lee Weide, Nebraska Cattlemen Vice President of Operations at 402/475-2333, lweide@necattlemen.org.