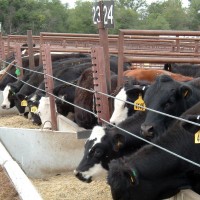 The University of Nebraska-Lincoln will be offering a Feedlot School at West Point, NE in June.  Feedlot employees in that area are encouraged to attend the event on June 23 at the West Point Livestock Auction Market (839 S. Colfax/Hwy 275).  The goal of this program is to assist with the training of feedlot employees in the areas of animal health, management and nutrition.
               Specific topics include: sampling, packaging, and recording materials for veterinary diagnostic centers and consulting veterinarians; rumen anatomy and physiology; chute-side live animal evaluation; feedlot nutrition and management.  The program will start with registration at 1:00 and adjourn at 4:30 p.m.
Topics and speakers were chosen to benefit feedlot personnel involved in feedlot nutrition and management.  Spanish translation will be available.
For more information or to pre-register contact Matt Luebbe (mluebbe2@unl.edu) at the Panhandle Research and Extension Center ph. 308-632-1260.  Registration by Thursday, June 18th is $10.  Registration at the door is $20.
For more information or assistance, please contact Larry Howard, Extension Educator, Nebraska Extension in Cuming County.  Phone: 402-372-6006 or e-mail lhoward1@unl.edu