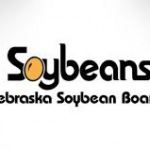 LINCOLN, Neb– Heavy rains have slowed down planting for many Nebraska soybean growers, but as they wait for better planting conditions, there are some things farmers can do to improve their prospects for a good crop.
University of Nebraska-Lincoln (UNL) Professor Emeritus of Agronomy and Horticulture Jim Specht has spent his 40-year career studying soybeans and how they respond to water. While much of his research has focused on stress to plants caused by lack of moisture, Dr. Specht also knows how farmers can adjust to the challenges of late planting caused by an abnormally wet spring.
"The obvious disadvantage of the additional moisture this spring is that producers found it difficult to plant soybeans in early May. The delay in planting causes a yield penalty of half a bushel per acre per day of delay after May 1," said Specht. He recommends that farmers adjust their planting practices to help reduce yield loss caused by late planting.
"You always want that 'soybean canopy to be green to the eye by the 4th of July.' This means that when you look at a field, you don't see the ground between the rows. All of the incoming solar radiation is intercepted by crop leaves," said Specht. "If you do have to plant later, consider switching from a typical 30-inch planter to 15-inch rows or even a 7.5-inch planter. Narrower row spacing will help obtain canopy closure as early as possible, even with delayed planting."
Dr. Specht says the abnormally wet spring for many farmers isn't all bad news. "The infusion of additional moisture will bring soil profiles in most of the state up to soil water field capacity, which is good, since the soybean crop is assured plentiful soil moisture to use in the early part of the growing season before it is depleted and irrigation begins," said Specht.
For other tips and best practices, visit Soybean Management Field Days at one of the following locations.
·        August 11 – Holdrege
·        August 12 – Alda
·        August 13 – Wakefield
·        August 14 – Greenwood