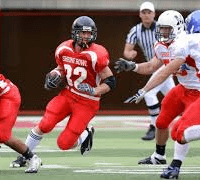 Kearney was the site of the Nebraska Shrine Bowl on Saturday.  The South edged the North 31-26 in a game that was called with 5:19 left to play due to a thunderstorm.
Wyatt Mazour of Boone Central/Newman Grove led the North with 94 yards rushing on 25 carries.
Columbus High's Blake Bubak had a one-yard run and a 23-yard reception.  He also was in on five tackles and recovered a muffed punt.