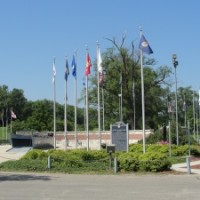 NORMANDY- A replica of a landing craft that helped the Allies win World War II has been installed and dedicated on the Normandy coast of northern France.
The Higgins boat replica and four bronze statues were installed late last month outside the Utah Beach Museum in Sainte-Marie-du-Mont. U.S. and French officials gathered there on Saturday, the 71st anniversary of the D-Day landings, to dedicate the memorial.
They paid tribute to the boat's designer, Andrew Higgins who was born in Columbus and grew up and attended high school in Omaha.