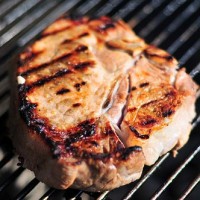 DES MOINES, IOWA – May 29, 2015 – Grilling season is heating up, and the Pork Checkoff is encouraging Americans to spice up this year's grilling celebrations with the unexpected flavor of lean, heart-healthy pork cuts through a multi-platform summer promotion.
"We know that Americans love to grill, but our research showed that many people aren't sharing and talking about flavor as much as they could be," said Randy Brown, chair of the Pork Checkoff Domestic Marketing Committee and a pig farmer from Nevada, Ohio. "We're going to tackle Americans' 'flavor shyness' this summer and show them that getting bold flavor is as simple as choosing juicy, tender pork."
The Checkoff officially launched its flavor mission May 19, with an unexpected cookout "crash" in one of the country's top 10 states most in need of a flavor infusion. The Checkoff created a little fun for one unsuspecting couple in Illinois. Improv actor and comedian Anthony Courser posed among their grill-out guests, humorously sneaking pork chops on the grill to feed the unsuspecting crowd.
As part of the Checkoff's multicultural outreach, the promotion includes a targeted program to African Americans. The Checkoff is teaming with four celebrity chefs for "DJ Grill Crashers." The campaign aims to inspire African-American consumers by encouraging them to cook and enjoy pork in creative, healthier ways.
The campaign includes a series of "crashes" across the country, with pork taking center stage at grilling celebrations. New pork-inspired recipes and tips will be shared. Comedic actor and avid griller Donald Faison will share how to enjoy and create bold flavors on the grill with juicy, tender pork chops. He is known for the TV shows "Scrubs" and "Clueless" and the "Remember The Titans" movie.
"The multi-platform promotion will help us educate more consumers about the many different ways that they can enjoy pork this summer," said Brown. "Our goal is to expand long-term pork demand. This is even more important as we continue to see more pork available to consumers in the coming months."
To see where each state stands in the flavor line-up, watch Grill Crashers videos and find more pork recipes that will have summer grilling tasting great, visit PorkBeInspired.com/GrillCrashers. Follow Pork Be inspired on Pinterest, Facebook, Twitter and Instagram and share photos of backyard crashes featuring delicious pork recipes using #GrillPork.