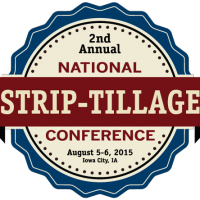 BROOKFIELD, WI — This year's 2nd annual National Strip-Tillage Conference will build off the success of last year's first ever event, featuring more presentations and experts in the field of strip-till. Held August 5-6 at the Coralville Marriott Hotel in Iowa City, Iowa, this can't miss event for growers practicing or considering strip-till offers hundreds of tips and techniques from veteran strip-tillers, university experts and consultants.
Ag consultant and equipment expert Kevin Kimberley will headline the conference, with a complete program of speakers and topics available online at www.StripTillConference.com. The itinerary has been expanded this year to include: 7 general session speakers, 14 strip-till classrooms, 30 strip-till roundtables and 32 hours of strip-till valuable networking opportunities. Registered attendees can also sign-up for a pre-conference workshop prior to the start of the event to gain further, hands-on insight from Kevin Kimberley, on proper strip-till equipment setups to maximize in-field performance. Speaker and session highlights include:
o Kevin Kimberley, founder of Kimberley Ag Consulting has more than 15 years of experience that he is bringing to a special 3-hour, pre-workshop on August 5. He will go in-depth with specific soil types to teach audience members the benefits and drawbacks to different strip-till rig setups in this hands-on workshop.
o Joel Gruver, professor of Soil Science and Sustainable Agriculture at Western Illinois University, will discuss opportunities and challenges in choosing and implementing cover crops in a strip-till system. He will also consider the impact of cover crops on nutrient availability and soil moisture dynamics.
o Fabian Fernandez, a nutrient management specialist from University of Minnesota, will share proper soil sample collection techniques and compare nutrient management practices for strip-till and no-till environments.
o Iowa Secretary of Agriculture Bill Northey leads a general session presentation on using new technologies to address water quality and other conservation issues shaping the ag industry.
o Veteran agronomist Mike Petersen will present compelling arguments on how precise nutrient placement with strip-till can not only increase the availability of nutrients, but also increase the actual uptake by corn roots.
o Persia, Iowa, strip-tiller Bill Darrington will present a hybrid strategy of strip-till and no-till that he has perfected over the years as the only system he trusts on his farm in the rolling hills of western Iowa. He'll also share how being biologically aware of the environment has benefitted his evolving strip-till system. o Veteran Minnesota strip-tiller Tom Muller will lead a classroom discussion on improving soil structure and the importance of earthworm activity, as well as how to grow earthworm populations.
o Cade Bushnell, from Stillman Valley, Ill., will share successful strategies he uses to combat corn-on-corn strip-tilled fields, as well as weed and residue management in a classroom session.
Darrell Bruggink, executive editor and publisher of No-Till Farmer's Conservation Tillage Guide and an organizer of the National Strip-Tillage Conference, encourages both experienced strip-tillers and farmer's curious about strip-till practices to attend and learn practical tips, techniques and strategies.
"Attendees at our first strip-till meeting last year told us that as much as they picked up valuable ideas from the speakers, they really enjoyed the opportunity to network and discuss challenges and solutions with fellow strip-tillers," says Jack Zemlicka, technology editor and organizer of the event's speaker program. "This is a unique, focused educational meeting for strip-tillers with many good ideas they can put to use in their farming system."
The complete 8-page program can be found at www.StripTillConference.com. Registration is $249, and only $204 for additional farm or family members.
The event is co-sponsored by Strip-Till Farmer and 12 industry-leading Title Sponsors, including Copperhead Ag, Dawn Equipment Co., Environmental Tillage Systems, Ingersoll, Kuhn Krause, Montag Mfg., Nufarm, Nutra-Flo, Orthman Mfg., Raven Industries, Thurston Mfg. Co.(Blu-Jet) and Yetter Mfg. Co.