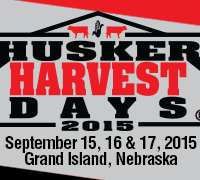 GRAND ISLAND, NE- Husker Harvest Days, the world's largest totally irrigated working farm show, located near Grand Island, Neb., is receiving major upgrades for its water drainage system  in its visitor parking areas. The 2015 HHD is Sept. 15 – 17.
Construction work is already underway and is scheduled to be completed well before the 2015 show. The improvements involve re-grading the entire visitor parking lot areas and installing new drainage and retention ditches to control surface water over  the entire event area. The visitor parking areas are receiving a complete grading and gravel roadways are being installed on the main travel lanes within the parking lots to alleviate attendee parking and exiting challenges due to rainy weather.
"While no outdoor event is completely weather-proof," said Matt Jungmann, Penton Agriculture show director, "the new construction certainly puts us in a better position to keep the show open for business, even if we get rain like we had last year."
Upgrades will total a significant investment in the site and the expense is being shared by Penton Agriculture, the event's parent company, and the Agriculture Institute of Nebraska.
Hooker Brothers, located in central Nebraska, is handling the engineering, surveying, grading and culvert work. A local Grand Island supplier is contracted for the recycled crushed concrete aggregate that will be used on the roadways. Roger Luebbe, show operations manager, is organizing the project.
The 2014 HHD was held only two of its usual three days due to severe thunderstorms and untimely heavy rains that occurred overnight and during show hours. The moisture was welcomed to recharge the area's groundwater reserves; however the visitor parking areas were severely damaged from traffic. The show site's drainage system was overwhelmed and couldn't handle the amount of rain that was received during the show, especially with the already saturated soils from rains that preceded the show.
All of the current improvements are designed to give show visitors and exhibitors more enjoyable show experiences. The site upgrades will keep the focus on the event's main theme of showcasing the latest technology and services in agriculture.
Farmers and ranchers from 28 states and several countries attend the show each year. Visitors have access to more than 600 exhibitors with agriculture's latest product introductions, meet face-to-face with company representatives and gain hands-on knowledge about the latest products and services for their farms and ranches.