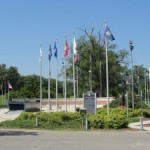 This past Friday the Higgins Boat replica and sculptures left Columbus on schedule.
The boat and sculptures will be dedicated June 6th as part of France's official D-Day observance in Normandy. Chamber member Duo-Lift Manufacturing built the boat and members at Behlen Manufacturing Company crated and shipped the boat and sculptures.
The Columbus Community Foundation is accepting donations for the project.