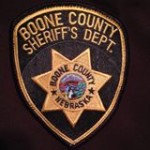 A man was killed and another injured in a two-vehicle crash southeast of Albion Thursday morning.
The Boone County Sheriff's office says around 9:30 a.m. 69 year oldTimothy Flaherty of Lincoln was passing a semitrailer westbound on Highway 56 when his vehicle crashed into an eastbound pickup truck. The pickup's driver, 62 year old Gary Nauenburg of Cedar Rapids, was taken to a Boone County hospital, along with Flaherty.
The sheriff's office says Nauenburg died at the hospital.