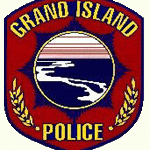 Early this morning Grand Island Police and the Hall County Sheriff's Office responded to an accident on Highway 30.
42 year old Officer Wesley Tjaden was west bound on Highway 30 in a marked Grand Island Police vehicle. 48 year old Eddy Olivares of Grand Island was east bound when he turned in front of Officer Tjaden causing the vehicles to collide. Tjaden was transported to an area hospital with nonlife threatening injuries. Olivares was not transported. West bound Highway 30 was partially closed due to the accident.
Olivares was cited for failure to yield.