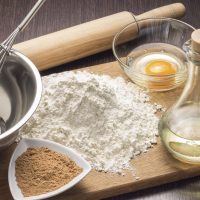 Baked Zucchini Fries
½ cup bread crumbs
¼ cup grated Parmesan cheese
2 eggs, beaten
3 zucchinis, ends trimmed, halved and cut into ½ inch strips
Preheat oven to 425 degrees F. Line a baking sheet with aluminum foil and spray with cooking spray. Stir bread crumbs and Parmesan cheese together in a shallow bowl. Whisk eggs in a separate bowl. Dip zucchini strips into egg mixture, then roll in bread crumb mixture to coat. Place zucchini strips on baking sheet and bake, turning once, until golden and crisp, 20-24 servings. Makes 4 servings.
Summer Squash Chicken Alfredo
2 skinless, boneless chicken breast halves
2 tablespoons minced garlic
1 (8 ounce) package uncooked rigatoni pasta
6 slices bacon
1 tablespoon vegetable oil
1 small zucchini, sliced
1 small yellow squash, sliced
1 cup Alfredo sauce
¼ cup milk
6 sun dried tomatoes, chopped
3 tablespoons Parmesan cheese
¼ cup sliced almonds
Preheat oven to 350 degrees F. Lightly grease a baking dish. Put the chicken in the baking dish and coat with the garlic. Bake for 25 minutes, or until the chicken juices run clear. Cool and chop. Bring a large pot of lightly salted water to a boil and cook for 10 minutes, then drain. Cook the bacon in a skillet over medium high heat until evenly brown, then drain, crumble and set aside. Heat the oil in the skillet over medium heat and sauté the zucchini and yellow squash until tender and lightly browned. In a small bowl, mix the Alfredo sauce and milk. Serve chicken over the cooked pasta. Pour the sauce over the chicken, top with the zucchini and squash, then sprinkle with the tomatoes, bacon, Parmesan cheese and almonds. Makes 6 servings.
Sloppy Joes
1 pound ground beef
1½ cups ketchup
1 cup chunky salsa
2 tablespoons brown sugar
1 tablespoon Worcestershire sauce
2 tablespoons white vinegar
2 tablespoons Dijon mustard
1 teaspoon hot sauce
Heat large skillet over medium high heat and stir in the ground beef. Cook and stir until the beef is crumbly, evenly browned and no longer pink. Drain and discard any excess grease. Stir in ketchup, salsa, brown sugar, Worcestershire sauce, white vinegar, Dijon mustard and hot sauce. Bring to a simmer and cook, stirring occasionally, over low heat for 20-30 minutes. Makes 6 servings.
Make Ahead Breakfast Bars
3 cups frozen Southern-style hash browns
4 eggs, lightly beaten
1 cup cubed fully cooked ham
1 cup shredded Cheddar Monterey Jack cheese blend
½ teaspoon onion powder
¼ teaspoon salt
1/8 teaspoon ground black pepper
Preheat the oven to 350 degrees F, and grease an 8×11 inch casserole dish. Mix hash browns, eggs, ham, cheese, onion powder, salt and pepper together. Pour mix into the casserole dish. Shake dish gently from side to side to level out ingredients. Bake, uncovered, until stop starts to brown, about 40 minutes. Cool before cutting into bars and freeze if desired. Makes 6 servings.
No Bake Peanut Butter Pie
1 (8 ounce) package cream cheese
1 ½ cups powdered sugar
1 cup peanut butter
1 cup milk
1 (16 ounce) package frozen whipped topping, thawed
2 (9 inch) prepared graham cracker crusts
Beat together the cream cheese and powdered sugar. Mix in the peanut butter and milk and beat until smooth. Gently fold in whipped topping. Spoon into the graham cracker pie shells, cover and freeze until firm. Top with shaved chocolate before serving, if desired. Makes 16 servings.