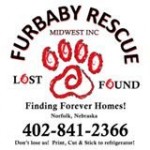 A Norfolk dog rescue group says it's received donations as far away as Australia in treating a pit bull left to die with multiple gunshot wounds.
Furbaby Rescue says Grace the pit bull was found southeast of Stanton and was shot three times. The group says surgery is required to remove a bullet from her shoulder and reconstruct her jaw. It has raised more than $2,000 to help pay for Grace's surgery costs after setting up an online fundraiser.
The money also will be used to offer a cash reward for finding the person who shot the dog.