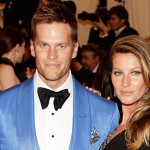 (NEW YORK) — It has been a few years since Tom Brady was able to hoist the Vince Lombardi trophy after winning the Super Bowl. And Brady's been married to supermodel Gisele Bündchen since 2009, years where she had to watch her husband lose twice in the biggest game of the year.
Now, the two can celebrate the ultimate victory together.
Brady, 37, spoke to Sports Illustrated about what is what like to finally wake up a winner next to Gisele after capturing Super Bowl XLIX two weeks ago.
"I had a nice moment with my wife Tuesday morning [two days after the Super Bowl]. Monday was taken up with getting home, and I finally had a chance to sleep Monday night. …We woke up Tuesday, and, now, she's woken up twice next to me after Super Bowl losses, and [for those] I was like, 'The game's today, right? What I just had was a nightmare, right? That didn't really happen, right?' And this time, I just looked at her and it was, it was," he said.
SI's Peter King asked Brady: "What happened, what'd you say [to Gisele]?"
"It was just special. Just pretty special," he said.
Bundchen has been just as happy about the big win. She spoke to Vogue UK recently about how she knew instantly that Brady was the one.
"I knew Tom was the one straightaway," she said in the magazine's March issue. "I could see it in his eyes that he was a man with integrity who believes in the same things I do."

Copyright © 2015, ABC Radio. All rights reserved.