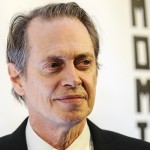 (NEW YORK) — The Fifty Shades of Grey parodies are still going strong online, and the latest parody trailer, titled 50 Shades of Buscemi, stars actor Steve Buscemi.
The video combines footage from Fifty Shades of Grey with clips from several of Buscemi's roles, including those from Boardwalk Empire, Fargo, Billy Madison, The Wedding Singer and Mr. Deeds.
In the parody, Buscemi fills in for Jamie Dornan's character Christian Grey, opposite Dakota Johnson's Anastasia Steele.
Buscemi is currently featured in Snickers' Brady Bunch parody ad as Jan Brady, sister to Danny Trejo as Marcia.
The Fifty Shades of Grey movie opens Friday.

Copyright © 2015, ABC Radio. All rights reserved.