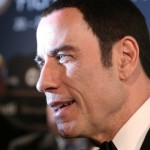 (LOS ANGELES) — John Travolta will have a chance at redemption at this year's Academy Awards ceremony. He's just been added as a presenter for the 87th Oscars, airing on ABC Feb. 22.
Travolta was mercilessly mocked online after he butchered Idina Menzel's name while introducing her performance of "Let It Go" at last year's Oscars. He famously called her "Adele Dazeem."
Jennifer Aniston, Sienna Miller, David Oyelowo, Chris Pratt and Kerry Washington have also been announced as presenters for the Academy Awards. Neil Patrick Harris will host the ABC telecast live from Hollywood.

Copyright © 2015, ABC Radio. All rights reserved.