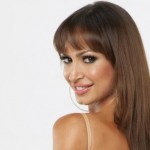 (LOS ANGELES) — Dancing with the Stars pro Karina Smirnoff announced Tuesday on Instagram that she's saying goodbye to the ABC show after 16 seasons.
"Many of you have been asking if I will be back for season 20 of DWTS and I wanted all of my incredible family to hear it directly from me," the 37-year-old Ukranian-born ballroom dancer writes. "After a lot of thought and prayer, I've decided to focus my energies on some other exciting endeavors including adding author to my resume."
"I have absolutely loved dancing for all of you for all these years and feel blessed to have been given a platform to put my passion for dance, choreography and creativity on display," she continues, adding, "DWTS has been a huge part of my life for the last 10 years and i will always have a special place in my heart for it."
Smirnoff goes on to say, "I am thrilled that now you will be seeing more of me in new arenas in the days and weeks to come. My first book We're Just Not That Into You – Dating Disasters From the Trenches was released today and I look forward to hearing from you as you read it!"
She concludes by thanking her fans, noting, "I love all of you so very much and couldn't feel more grateful for your support in all that I do!"
Smirnoff first joined DWTS for season three in 2006, competing with Mario Lopez and placing second in the competition behind Cheryl Burke and Emmitt Smith. She's competed every year since, with the exception of season 10.
Karina took home the mirror ball trophy in season 13, when she danced with daytime soap star and Iraq war vet J.R. Martinez.
This past season, she was paired with mixed martial artist Randy Couture. They were eliminated after the third week of competition.
Dancing with the Stars returns for its 20th season March 16.

Copyright © 2015, ABC Radio. All rights reserved.