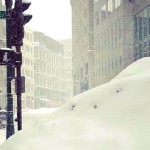 (BOSTON) — So far over 77 inches of snow has fallen for the season in Boston — that's nearly 3 feet above normal, with the average being 43.8 inches.
That makes it the snowiest season to this date in recorded history, and already the ninth snowiest season overall.
The snowiest season ever was the winter of 1995-1996, when Boston got 107.6 inches. If the current weather pattern stays at this pace, that record could be broken. Over 40 inches of snow has fallen in February alone — the third snowiest February on record — even though we're less than half way into the month.
As seen in the chart above, it's the snowiest 14-day, 20-day and 30-day periods on record. Boston got 6 feet of snow in 30 days — that's a first.
Boston has had two top 10 snowstorms in just two weeks. The blizzard of 2015 that happened on Jan. 26-27 dropped 24.4 inches ranked No. 6 of snowfalls on record. The most recent storm ended at 23.8 inches, ranking in at No 7.
So far, Boston has had three calendar days of 12-plus inches of snow this winter, and those were all record-setting, happening about a week apart. This has never happened before, the highest was only two days of 12-plus inches snow in one season.
Here are a few comparisons to show just how much snow dumped on Boston these past few weeks.
The city had twice the amount of snow as Mount Washington, N.H., this month (about 40 inches vs. about 20 inches). Mount Washington is known for some of the worst weather in the world.
Boston also had nearly four times the amount of snow as Anchorage, Alaska, this season. Anchorage stands at about 19 inches so far but that's over 30 inches below normal for them. Still, 77 inches is higher than Anchorage's average season. In the past two weeks, crews removed enough snow to fill Gillette Stadium 90 times.
New England is prepping for another storm moving through the Northeast on Thursday. The good news, only light snow expected. However, the system is forecast to bring frigid air, maybe even the coldest of the season for some places.
Essentially half of the country will see temperatures in the 20s or below on Friday morning — freezing temps dipping all the way down to Florida.
A second storm will take a similar track as the first, bringing snow through the Midwest on Thursday and Friday and into the Northeast by Saturday. By Sunday morning, temperatures are expected to be even colder, with single digits and teens as far south as Nashville and Atlanta.

Copyright © 2015, ABC Radio. All rights reserved.