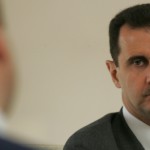 (NEW YORK) — Syrian President Bashar al-Assad receives information from the United States regarding the fight against ISIS, he revealed in an interview with the BBC, but he denied that the countries are coordinating their efforts against the terrorist group, which has taken control of large swathes of Syria and Iraq.
"They don't talk to us, we don't talk to them," he said.
"Sometimes they convey a message, a general message but there's nothing tactical," Assad told the BBC's Jeremy Bowen in a rare interview, adding that Iraq and other countries act as third parties and that he knew about the U.S.-led coalition's bombing campaign before it started in September.
"There is no dialogue. There is, let's say, information but not dialogue," Assad said.
By carrying out missions in the skies over Syria, Assad said, "they easily trample over international law."
Assad appeared confident and defiant during the half-hour interview. He dismissed video evidence and widespread accusations by human rights groups that his military has dropped "barrel bombs" — canisters packed with explosives — on civilian populations.
"We have bombs, missiles and bullets. No indiscriminate weapons," Assad said. "There are no barrel bombs, we don't have barrels.
"When you shoot you aim, and when you shoot, when you aim, you aim at terrorists in order to protect civilians," he added. "You cannot have war without casualties."
Those bombs, Human Rights Watch reported last year, contain cylinders of chlorine gas. Syria agreed to hand over its entire chemical weapons arsenal for destruction but has still faced accusations that it continues to use chlorine gas, another charge Assad denied.
The president danced around questions about personal mistakes he has made during the now almost four-year war in Syria, saying simply, "everybody makes mistakes."
He also called it a "fantasy" that the early protests against his government — long before ISIS and al Qaeda had a foothold in Syria — were peaceful, pointing to police who were "not killed by sound waves."
From the beginning, the Assad government has claimed that it was battling terrorists, that there was no moderate rebel movement. Assad still claims that he has popular support. Otherwise, he said, "how could I stay in power?"
Assad's confidence didn't waver during the interview, even when asked at the end what keeps him up at night.
"Many reasons that could affect any human," he answered. "Could be your job, could be personal. Like any other human."

Copyright © 2015, ABC Radio. All rights reserved.