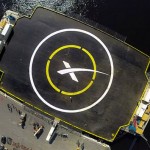 (CAPE CANAVERAL, Fla.) — SpaceX's Dragon capsule splashed down Tuesday night off the coast of California hours after it was released from the International Space Station, the company said.
The successful landing and recovery marks the fifth such mission SpaceX has carried out for NASA to the ISS.
On board the spacecraft returning to Earth is several thousand pounds of cargo ranging from crucial science experiments to trash generated by the astronauts living in low Earth orbit.
The capsule blasted off last month carrying food for the astronauts, science experiments for them to conduct in space and even some belated Christmas presents from their families back on Earth.
Dragon stayed docked at ISS for a month until Italian astronaut Samantha Cristoforetti released it from the grip of a robotic arm. The capsule went through several controlled burns as it moved over the Pacific before landing a couple hundred miles southwest of Long Beach.
SpaceX, a private company, has filled the gap for NASA with cargo deliveries that were slowed down when the Space Shuttle quit flying. Along with Boeing, the company is tipped to get U.S. astronauts off the Russian Soyuz and back on a U.S.-built spacecraft.
NASA would like both companies to meet a 2017 deadline, when the current transportation contract with Russia expires.

Copyright © 2015, ABC Radio. All rights reserved.